Are Crochet Hooks Allowed On Airplanes?
Some DIY friends and I recently debated this question over coffee:  Can you bring crochet hooks on an airplane?
Not wanting to be caught off guard at my next visit to the airport, I decided to so some research on the Transportation Safety Administration (TSA) regulations for crochet supplies.
So, what are the regulations about bringing crochet hooks on an airplane?
According to 2019 regulations posted on the TSA website, crochet hooks are allowed in carry on luggage.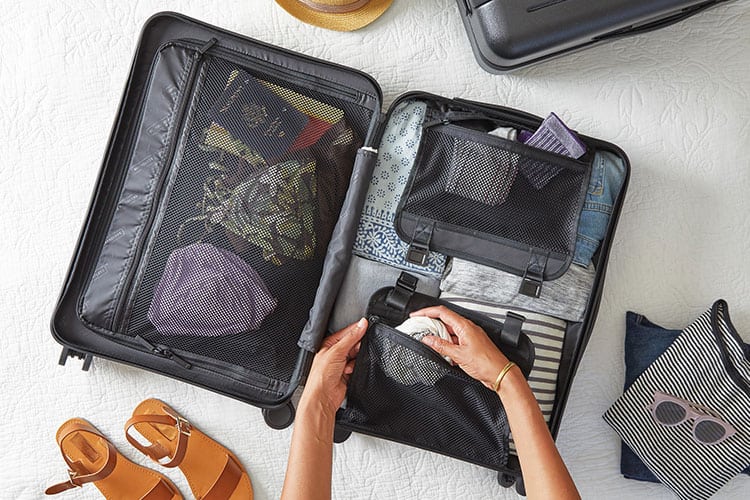 This includes both domestic and international flights departing from the United States.
While all crochet hooks are generally approved, there are some guidelines to follow that will provide some extra insurance that your supplies will make it on your next flight.
The issue with bringing crochet hooks and knitting needles on an airplane is whether or not they could be used as a weapon.
Shortly after the September 11th terror attacks, there were reports of many different types of DIY/craft supplies being confiscated in security screening.
Since then, TSA developed a set of guidelines that allows passengers to bring crochet hooks on an airplane in their carry on baggage without any concerns.
That being said, TSA does recommend wooden and plastic crochet hooks over metal ones.
Metal crochet hooks are much more difficult to break and more likely to be confused as a weapon.
The size of the crochet hook should also not make a difference when traveling on a domestic flight.
However, if you intend to carry on crochet hooks (or place them in your checked baggage) TSA does ask that all sharp objects be placed in a sheath or securely wrapped to prevent injury to a TSA agent looking through luggage.
It is a good idea to use a crochet hook case when you travel to not only avoid any issues in security but also avoid you crochet hooks getting lost.
International Flights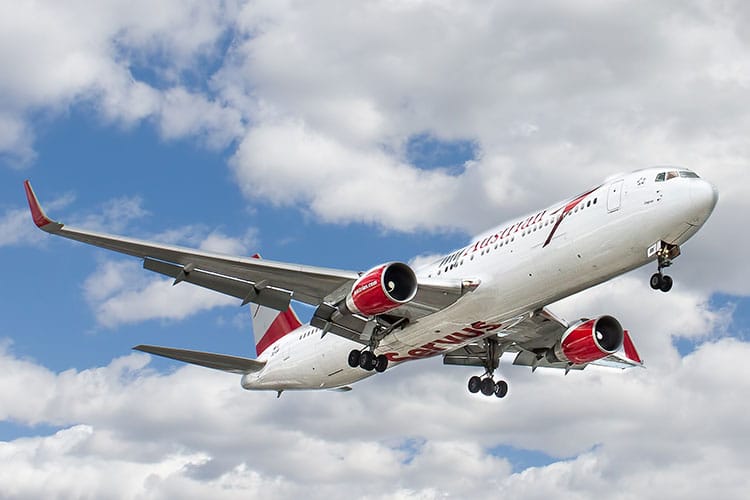 As a general rule, crochet hooks are allowed on international flights departing from the United States as well.
TSA follows same regulations for crochet hooks for flights departing domestically or internationally.
The same does not apply for flights around the world.  Other country's security regulations may be different.
Canada, Australia, France, Great Britain and many more countries allow carry on crochet hooks without any issues.
Other countries like Ireland and some airlines like KLM and Jet 2 specifically state that crochet hooks "made of metal or other material strong enough to be used as a weapon" may not be packed in carry-on luggage.
While you may be allowed by TSA to take the crochet hooks on an airplane departing the United States, you may be required to place those same crochet hooks in your checked luggage on your flight home depending on your country and international airline's regulations.
To find out about international regulations, call or email your airline directly with your flight number and destination.
The airline should be able to direct you to the most updated security regulations for your international destination.
What is the best way to pack a crochet project on the airplane?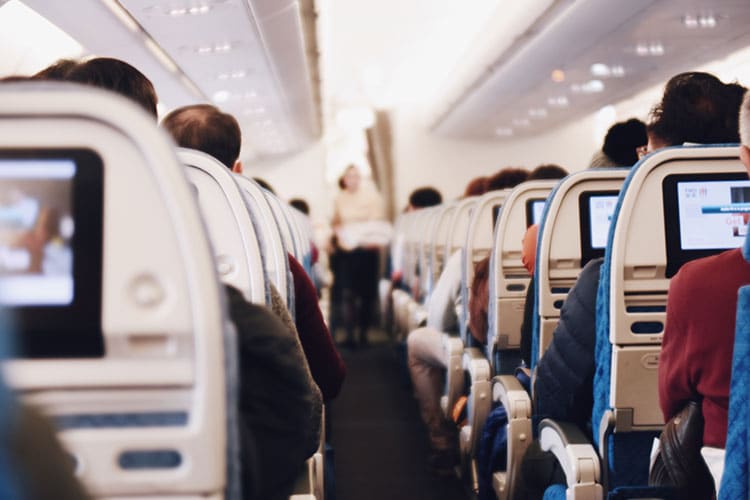 If you are planning to crochet on an upcoming flight, there are some handy ways to make your project go more smoothly in the air.
If you plan to work on a crochet project mid-flight, choose a small to mid-sized project.
Airplane seating areas continue to get smaller and smaller, limiting how much elbow room you have for crafting.
Your seat neighbor will appreciate it if you bring a small project like a dish towel or socks.
They likely will not appreciate you elbowing them while you work on your full-sized afghan.
When packing for the flight, it is best to pack your project in a small bag in the carry on item you intend to stow under the seat in front of you.
This avoids having to dig in an overhead compartment mid-flight for your project.
It can also be stowed quickly in the event you need to move out of your seat for a fellow passenger or a flight attendant.
In your small bag, pack any pattern notes you might need along with your crochet hooks wrapped in a crochet hook case or envelope.
Even if you do not intend to work on your project, if you plan to bring crochet hooks on an airplane it is essential to pack some yarn.
There have been reports of airport agents questioning passengers who pack crochet hooks but no yarn to go with them as a greater security risk.
When packing yarn, pack only the amount you intend to use on the project while you travel.
By estimating how much you plan to use, it avoids the chance your yarns may be damaged or soiled during travel.
TSA can also ask to inspect skeins of yarn individually, which can eat up valuable time in the security line when you have an airplane to catch.
Other hints about flying with crochet hooks
Look for more information below about what to do if a security agent asks to remove your crochet hooks, but in general if you are dedicated to working on your project at your final destination, it is not a bad idea to throw an extra crochet hook into your checked luggage.
It is also best to avoid bringing your most expensive crochet hooks or family heirlooms with you while traveling.
If they get confiscated at security or lost in a hotel or rental car, you're not out your favorite supplies.
Related Questions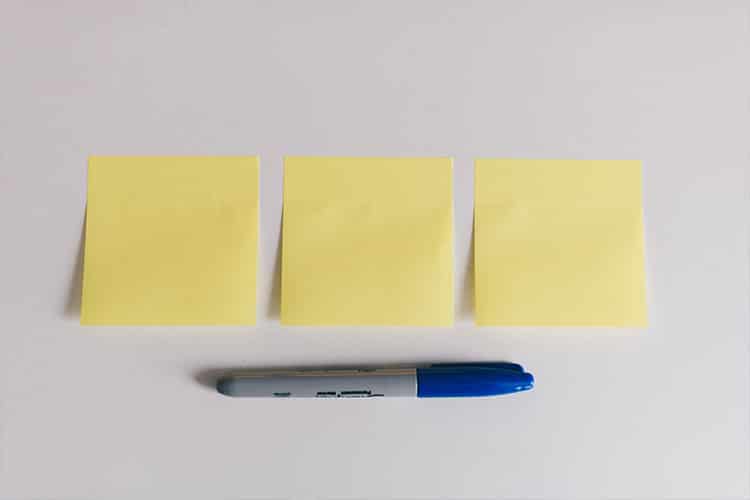 What about scissors?
TSA also has regulations about bringing scissors in carry on baggage on domestic flights. Scissors shorter than 4"are allowed. Scissors with blades longer than 4" are not.  If possible, select scissors with blunt ends rather than extremely sharp tips.
TSA does not allow any cutting utensil with an open blade to be placed in carry on baggage.  Circular or pendant thread cutters are not allowed.  These will be confiscated out of your carry on bag at the TSA checkpoint.  If you need to bring longer scissors or a thread cutter on your trip, securely wrap it and place it in your checked baggage.
These regulations are very different for international flights.  The same rules apply in that you should check with your destination or airline on all flights departing from outside the United States.
On a recent trip to South Africa, my small blunt tip scissors (the type used in elementary school classrooms) were removed from my carry on baggage as a potential risk.  The security agent consulted with another agent by actually poking her in the hand with the scissors! At that point they determined that the scissors were safe to carry on the airplane.  The scissors were only worth a few dollars so it would not have been a big loss to leave them behind.  But I wouldn't say the same for the antique pair of scissors in my sewing kit that belonged to my great grandmother.
Every international airport and airline has different regulations.  Checking ahead will prevent you from an unexpected (and unpleasant) surprises when trying to take scissors on the airplane.
What about knitting needles?
TSA regulations also state that knitting needles are allowed in your carry on baggage for domestic and international flights.  However, there have been more reports of knitting needles being confiscated than crochet hooks as they appear more like a weapon.
Some TSA agents or flight attendants raise concerns about the sharpness of knitting needles.  The more you can reduce the appearance of your needles as dangerous the better. Some ideas to help get your project on the plane include choosing blunt tips over sharp needle ends, plastic or wooden needles over metal, circular needles are better than straight, etc.
What if TSA wants to confiscate my crochet hook?
Despite all your preparations, what happens if you arrive at the airport on a high alert day or meet an inexperienced agent who raises the alert about your crochet hooks? TSA and other airline security agencies reserve the right to refuse any item on an airplane at any time.  These types of unexpected situations are why it's good to allow plenty of time before your flight to make it through security.
The first step is to identify the item to the security agent as a crochet hook.  Not everyone has exposure to yarn crafts, and they may be unclear what the item is used for.  If they continue to suggest the item cannot go in your carry on bag, ask to show the agent the TSA guidelines about crochet hooks or to speak to another agent about the item.  Despite the frustration, remember to be polite!
If all of those strategies fail and you still must remove the item from your carry on luggage, ask the agent for a padded mailer or pack a self-addressed stamped envelope that your crochet hooks will fit in. Some airports will provide these mailers to guests (postage may be extra) to mail the confiscated items home.  Just be sure to allow plenty of time before your flight!