Crochet magazines have long been the go-to place for beginners and experienced crocheters to find the latest techniques, trends, and patterns. Many crocheters prefer magazines over books, especially when your skill level advances quickly or when patterns go out of style. Delivered directly to your mailbox or your inbox, crochet magazines give readers fresh projects and ideas of how to keep pushing forward in their hobby or craft.
With more choices in the DIY, craft, and crochet marketplace than ever before, knowing which crochet magazines are the best can be intimidating. That's why we've reviewed the patterns, content, and affordability of the best crochet magazines on the newsstand.  We recommend crochet magazines that offer a good variety of patterns for the best price per issue.
The 5 Best Crochet Magazines Reviewed
Magazine #1 – Interweave Crochet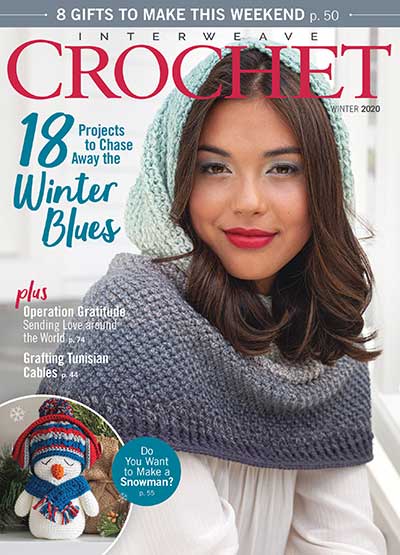 See the Current Price on Amazon
Among beginners and more advanced crocheters alike, Interweave Crochet continues to rank among the top crochet magazines on the market.  Interweave focuses on high-quality, unique patterns you're not likely to find anywhere else.  Designs are contemporary and 'on trend' giving the feel more of a fashion magazine and 'not your grandma's crochet.'
Pros:
Patterns use the latest in crochet fashion, techniques, and yarns.
Instructions are all kept together in the text. No need to flip back and forth to find the full pattern.
Many patterns include crochet diagrams and conversions
Cons:
Only publishes 4 issues per year.
Heavier emphasis on fashion and accessories over other types of projects
Patterns likely not well suited for someone without any crochet experience.
Magazine #2 – Inside Crochet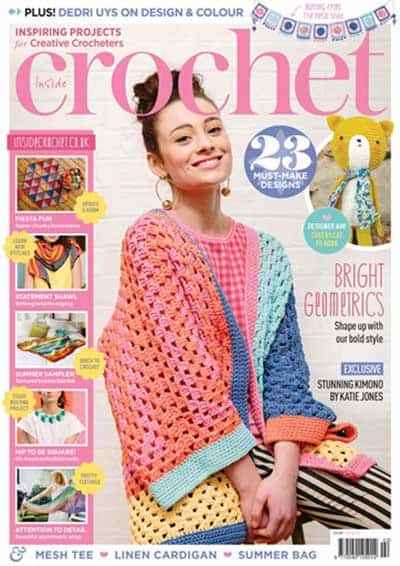 See the Current Price on Amazon
If you're looking for something beyond just patterns, you may want to consider a subscription to Inside Crochet.  Each monthly issue features a wide range of articles related to crochet, including interviews with top designers, stories about rising talent, and reviews of yarn and crochet tools.
Pros:
Includes a good range of patterns at different skill levels
Wearables include patterns for men, women, and children.
Each month has a section for beginners, those needing to brush up on skills, and advanced tutorials.
Published monthly at an affordable price.
Cons:
Based in the United Kingdom; digital subscriptions only in the United States
Articles related to special events and yarn shops may not interest American readers.
Magazine #3 – Crochet World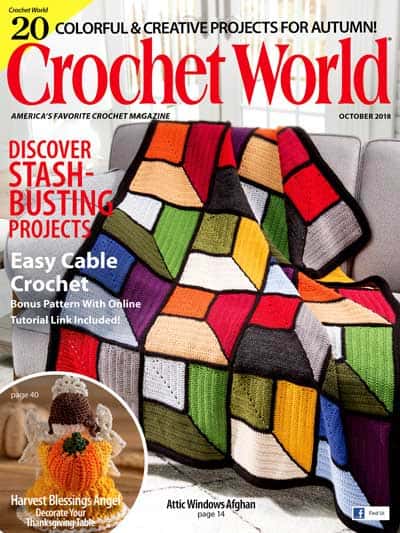 See the Current Price on Amazon
Crochet World magazine has been on newsstands since 1978 when it became the first of its kind all-crochet magazine.  Since then it's become a standard among yarn crafters and crocheters of all skill levels.  Crochet World ranks patterns in each publication from Beginner to Expert, with a good mix of projects for all skill levels.  Readers will find a mix of household items, toys, and afghans and more in each issue, all made from mass-market, easy-to-find yarns.
Pros:
More affordable than other options on the market. Digital edition is less than $5 per issue.
Longest running crochet magazine on the market with a large, trusted readership.
Access to hundreds of archived patterns online
Wide range of projects at different skill levels in each issue.
Cons:
Patterns can be a bit dated. Good for 'classic' or vintage rather than modern designs.
Emphasis on synthetic yarns
Six issues per year
Magazine #4 – Simply Crochet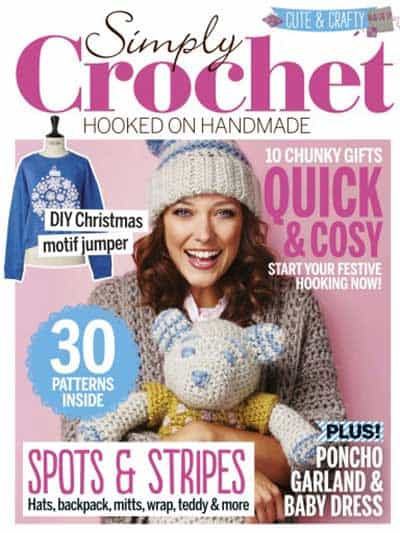 See the Current Price on Amazon
Produced by some of the leading crochet designers, Simply Crochet includes patterns and techniques for a wide variety of projects.  Printed editions come with free bonus patterns and other goodies like hooks or yarn samples.  With 13 issues annually, you'll have plenty of projects and patterns to try all year long.
Pros:
13 issues per year.
Variety of different pattern types, including fashion, home decor, and seasonal items.
Bonus items like extra patterns, hooks and yarn samples bundled in the print edition.
YouTube videos available for step-by-step guidance through patterns.
Cons:
At around $5 per issue for digital and $11+ for print, it's one of the most expensive crochet magazines on the market.
Digital editions don't come with the free swag
Magazine #5 – Mollie Makes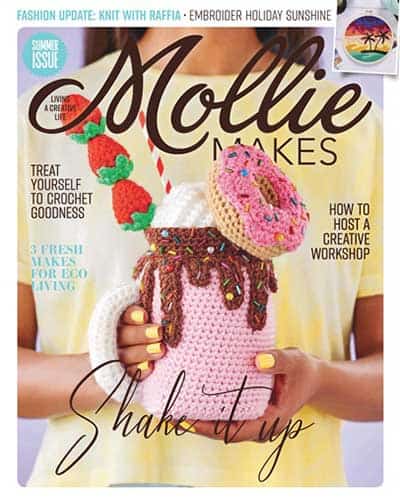 See the Current Price on Amazon
While not exclusively dedicated to crochet, Mollie Makes magazine features a wide range of DIY and yarn crafts.  Most issues have a few trendy, and easy-to-make crochet projects along with ideas in knitting, quilting, and other yarn arts.  Projects focus heavily on home decor, although accessories, gifts, and wearables also find their way onto the pages of Mollie Makes.  Many crocheters find the magazine helpful in featuring up-and-coming crocheters to follow online, including Instagram, Facebook, and Crochet Blogs worth following.
Pros:
The very latest in hip, trendy DIY designs.
Created more as a 'lifestyle' magazine, with full-color pages, curated photography, and advice on crafting for younger generations.
Great for those interested in crochet and other DIY projects.
Reads more like a blog than a traditional crochet magazine.
The print edition includes a bonus kit each month with a special project bundled to the magazine.
Cons:
Not exclusively dedicated to crochet patterns.
More expensive than other publications at over $10 per issue.
Directions are not listed by skill.
Digital vs. Print Magazines
Many of the crochet magazine titles above offer both digital and print subscription options.  While every crocheter has different preferences, there are some advantages and disadvantages to subscribing to either the digital or print editions.
The most obvious advantage of a downloadable digital subscription is the cost.  Print crochet magazines range from $5 to $10 per issue, whereas the digital editions run about one-third to one-half of that cost. Digital editions also come directly to your email inbox as soon as they become available each month.  There's no waiting for the postal delivery, which in some areas can be less reliable or result in damage to the magazine.  If you're limited on space or not likely to save the printed magazine, digital editions are a more environmentally friendly option. Finally, digital editions allow on-the-go crocheters to quickly reference patterns or read articles from a mobile device or tablet.
That being said, many crocheters prefer the print edition of their favorite crochet magazines.  Especially for timeless crochet patterns or patterns made for family heirlooms, having the print edition around may be important.  As mentioned above, some of the print editions of crochet magazines will include bundled products or bonus patterns enclosed with the mailing. They're often the latest in yarns, crochet hooks or other sponsored products from vendors.  Digital subscribers are generally not eligible for supplement items; it's one of the biggest advantages to paying for print.
A Note About Knitting Magazines
Finally, if you find the crochet magazines listed above helpful for your DIY hobby, consider subscribing to some knitting publications as well.  Some of the publishers of the best crochet magazines above, also have dedicated publications for knitters.  Just like crochet magazines feature all-things-crochet, knitting magazines give readers patterns, tips, and knitting techniques.
Even though they're dedicated to knitting and will primarily have knitting patterns, you'll also likely find cross-over into crochet.  Topics like finding affordable yarns, caring for finished projects, and the latest trends in fashion and accessories will still be relevant to crochet.  Crocheters with experience in pattern design or converting knitting patterns into crochet stitches may also find the patterns in knitting magazines adaptable to crochet.
Here are some knitting magazine titles worth exploring:  VogueKnitting International, KnitScene, The Knitter, Simply Knitting, Interweave Knits, Let's Knit, and Knit Simple.