When I was first introduced to crocheting, my great-aunt gave me a bunch of hand-me-down crochet hooks in various colors, materials, and sizes. While most were the same length, I wondered what the long crochet hooks were for. After a bit of research and a phone call to my aunt, I learned that there is a lot more to long crochet hooks than you might think.
So, what are long crochet hooks for? Long crochet hooks are used for a niche type of crocheting called Tunisian or Afghan crochet, and the long hooks are typically referred to as Tunisian hooks. The long length of Tunisian crochet hooks allows you to store many loops along the shaft like you would with a knitting needle. Tunisian crochet is often described as a perfect hybrid between knitting and crocheting, allowing a crafter to make projects with unique characteristics and qualities.
Beginning and experienced crocheters alike will find many benefits of long crochet hooks and Tunisian crochet. Whether you just like the style or are looking to add more techniques to your repertoire, long crochet hooks can be a great addition to your stock of crafting supplies.
How are Long Crochet Hooks Different from Traditional Crochet Hooks?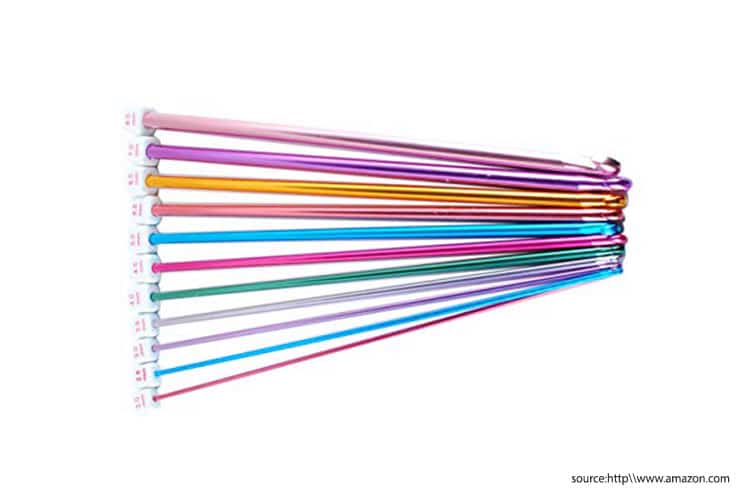 One of the best things about long crochet hooks is that their design makes them ideal for Tunisian crochet.
Tunisian crochet hooks have a noticeably longer shaft than traditional crochet hooks. While traditional crochet hooks are approximately 6 inches long, Tunisian crochet hooks range from 11 inches to 14 inches long. The long length allows you to store many stitches along the shaft like you would with knitting. This helps ensure that your stitches are uniform because they will be the same size as the shaft of your crochet hook.
You will also notice that Tunisian crochet hooks don't have a thumb-rest. Instead, long crochet hooks are smooth all the way to their end. Because of this, they resemble a knitting needle with a hook instead of a point.  This helps the stitches slide on and off the hook when you get to the end of a row, and they won't stretch out from a wide thumb rest.
Some Tunisian crochet hooks will have different types of ends depending on their purpose. Many Tunisian crochet hooks will have a square stopper to prevent stitches from sliding off the end. For crocheting in the round, Tunisian crocheting requires a hook on each end of the tool. For larger projects, some Tunisian crochet hooks will have a long cable on the end for storing even more stitches. The hook itself can vary between 6 inches and 11 inches long, and the cable can be a variety of sizes.
How Should I Hold Long Crochet Hooks?
If you are like most crocheters, you are probably a steadfast knife-gripper or pencil-gripper. However, since long, Tunisian crochet hooks don't have a thumb rest, neither of these techniques are appropriate for using long crochet hooks. Instead, Tunisian crochet requires a loose, overhand grip that allows you to manipulate the hook and your work in progress. It's best described as a hybrid between a knife and pencil grip, but don't be afraid to change it up depending on what feels natural to you.
How to Choose Long Crochet Hooks for Your Project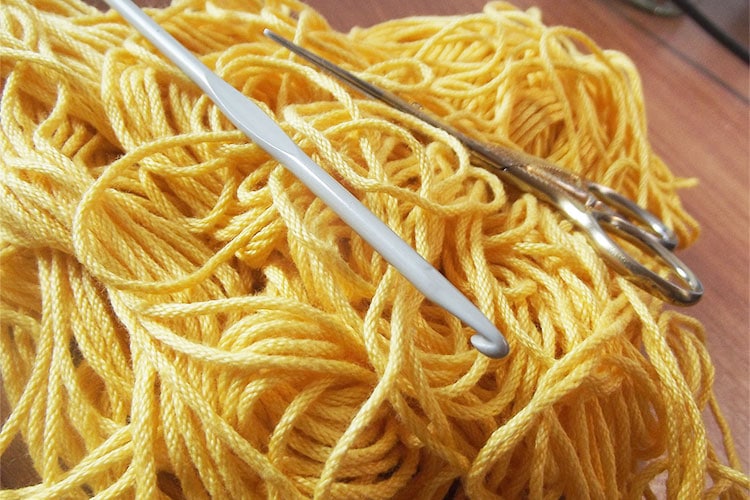 Long crochet hooks come in endless combinations of lengths, sizes, and colors. When choosing your first set of long crochet hooks, you will need to a variety of factors when choosing the hooks that will be best for your project.
Length: Long crochet hooks are typically 11 inches to 14 inches. The longer length allows you to store more stitches along the shaft as you are crocheting, which makes them ideal for Tunisian crochet. For smaller projects or for small sections of Tunisian crochet, you may want to use a shorter hook because it is easier to transport and is nimbler. For larger projects, a long hook is recommended so you have more space to store your stitches.
Long crochet hooks are not recommended for traditional crochet because the additional length doesn't have any advantages.
Material: Like traditional crochet hooks, long crochet hooks can be made from aluminum, steel, bamboo, and plastic. Aluminum and plastic crochet hooks are lightweight and are easy to find at most craft stores. Some people prefer bamboo because it feels warm in the hand and yarn easily glides off it. Others appreciate the durability of steel hooks. Ultimately, the best crochet hook material will depend on personal preference and the materials you are working with.
Style: If you are trying to make Tunisian crochet in a row pattern, you will need long crochet hooks with a straight shaft. You may also find long crochet hooks with a hook on each end, which are used for Tunisian crochet in the round. If you need extra-long crochet hooks, such as for making Afghan blankets, you can find a crochet hook with a cable on one end, which can be used to hold additional stitches. Double-ended crochet hooks may also have a cable connecting two crochet hooks for extra big projects worked in the round.
Why Should I Use Long Crochet Hooks?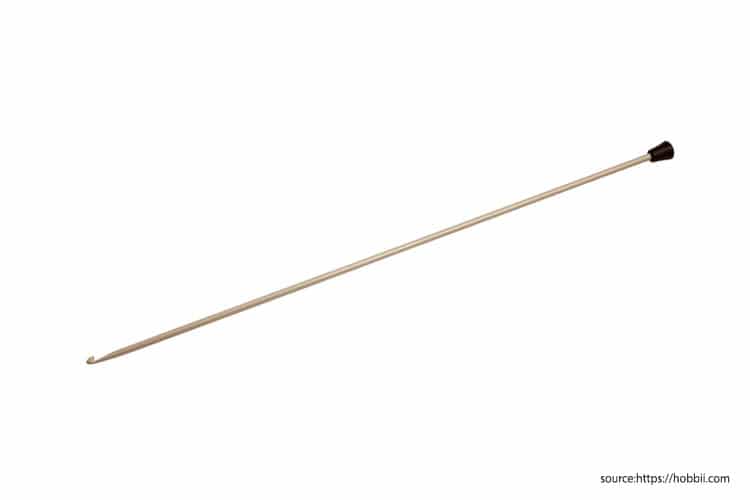 Tunisian crochet allows for variety and expression. It's a technique that integrates the best parts of knitting and crocheting. You can use Tunisian crochet to integrate color, add a variety of stitches, make a denser fabric for clothes or borders, and more.
Color: It's always exciting to add a pop of color to a project. It just brings everything to life! By using long crochet hooks and Tunisian crochet techniques, you will have new ways of integrating color into your projects. It's easy to carry multiple colors through a Tunisian crochet fabric. Also, since Tunisian crochet is denser than other crochet fabrics, it pairs well with embroidery and needlepoint to add color on top of the existing fabric.
Stitches: Did you know that you can do over 400 different stitches with long crochet hooks? That's more than both knitting and crocheting. Since long crochet hooks are a hybrid between crochet hooks and knitting needles, you can actually use stitches from both needlework practices.
Density: When using long crochet hooks, you can make thicker, denser fabric. This fabric is ideal for warm blankets and constructed winterwear. When you want to change things up, just use a larger diameter hook for elegant draping or for a breezier, warm-weather fabric.
Style: The density of Tunisian crochet can provide a nice contrast to more lacy crochet patterns. Tunisian knit and purl stitches provide less stretch compared to traditional knitting and crocheting, which makes Tunisian crochet a great alternative to crochet ribbing.
Where to Buy Long Crochet Hooks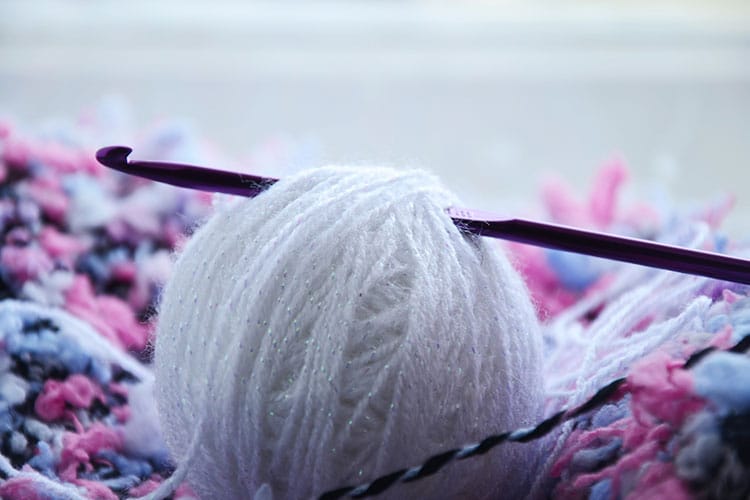 Long crochet hooks can be bought at most places you buy crafting supplies. Traditional crafting retailers, such as Michael's, Jo Anne Fabric, and Hobby Lobby carry long crochet hooks next to traditional crochet supplies. Some big-box retailers, such as Walmart and Target, may also carry long crochet hooks in the crafting isles.
Another way to buy long crochet hooks is by ordering them online. Because long crochet hooks go by many different names, it will be helpful to use a variety of search terms when shopping online. Some search terms you can try, include "Afghan crochet hook," "Tunisian crochet hook," and "Cro-hooking supplies." It is best to read the description carefully when ordering online to make sure that the tool will be the best for your project.
Amazon has a large variety of Tunisian crochet hooks and sets. I like this set because it is inexpensive and comes with a variety of sizes and colors. If you are looking for a flexible set that you can change out for different sized projects, this more expensive version is has everything you could ever need for Tunisian crocheting.
Related Questions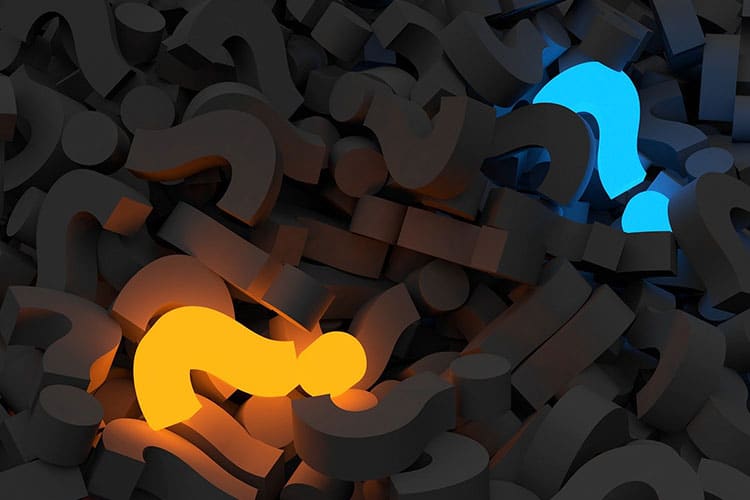 How is Tunisian crochet different from traditional crochet?
Tunisian crochet is often described as a perfect hybrid between traditional crochet and knitting. It uses techniques from both crafts, which results in a knit-like fabric that you can make with a crochet hook. If you are looking to start Tunisian crochet, you should know that Tunisian crochet has a different construction process that results in different fabric qualities.
Construction: Constructing Tunisian crochet will be different because it borrows techniques from crocheting and knitting. Like most crochet, Tunisian crochet starts with a foundation chain.
However, unlike traditional crochet, in Tunisian crochet, each stitch has a two-step process. The first step, "forward", is similar to casting on, where your loops accumulate on your hook. In the second step, "return", the stitches are worked off the book. Tunisian crochet is always worked on the front side of the project and there is no need to turn your work.
Fabric: Because of the different construction processes, Tunisian fabric has different characteristics. For example, it does not stretch as much as traditional crochet. While traditional crochet fabric will stretch in all directions, Tunisian crochet has less horizontal stretch, meaning Tunisian crochet will bounce into shape much more than traditional crochet. Also, due to the forward and return pass construction, Tunisian crochet will have a neat border on each edge of the fabric.
What supplies do I need for Tunisian crocheting?
You can start Tunisian crochet with most traditional crochet materials. The only big difference is the tool you use, which will need to be a long crochet hook. Beyond that, you just need the other basics, such as yarn and scissors.