Many people wonder just how expensive it is to start learning how to crochet.
I'll share with you the absolute necessities of the craft, how much you can expect to spend, and the average cost of each item. The total cost may surprise you in the end.
So how expensive is it to begin learning how to crochet?
Depending on the retailer you use to purchase supplies, the type of yarn or hooks you are looking for, and several other factors, you can start learning for little more than the cost of a couple days worth of stops at your super expensive coffee-latte drink store you like to indulge in.
Learning a new craft or hobby can be intimidating enough, without having to spend a ton of money only to set it aside because the skill was too complicated to learn. Fortunately, crocheting is by no means an expensive hobby!
The supplies you will need to begin crocheting are minimal and are easily found at most stores. With the resources that the internet offers, there are many places you can find free how-to information and tutorials, and you can easily begin learning how to crochet with almost no money invested into the craft.
Because of the amount of both written and visual material, no matter your learning style you will quickly be able to complete projects to be proud of!
What Supplies Will I Need?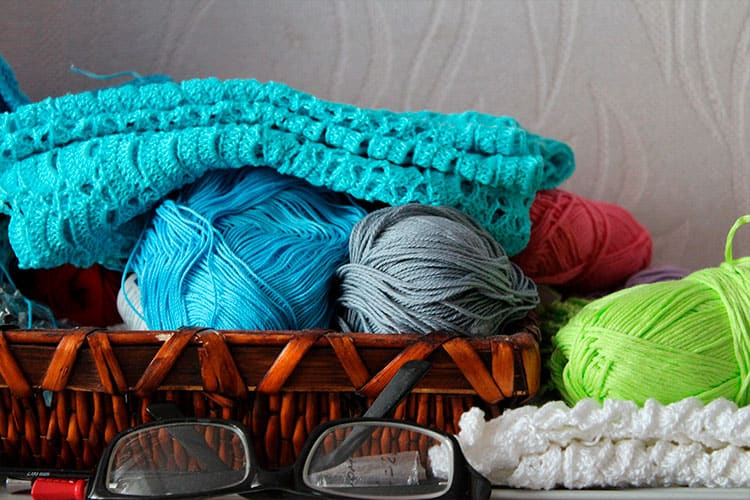 There are so many options to choose from when it comes to deciding which supplies you need right now, which you will need later on, and which you don't really need at all.
Yarn comes in all weights, colors, and brands, and it is made out of different fibers.
There are different kinds of crochet hooks: steel, aluminum, plastic, and wood. There are different sizes, different kinds, and specialty hooks available from almost anywhere. There aren't very many things you will need when learning to crochet.
Crochet hooks are a must, and yarn is a necessity.
Scissors are helpful, as are stitch markers for some patterns, a measuring tape, and, of course, a pattern to follow.
A darning needle is a must for weaving in the ends of your yarn at the end of your project. As a note, the prices listed below reflect the prices of an average neighborhood craft store, and not a specialty yarn shop.
Crochet Hooks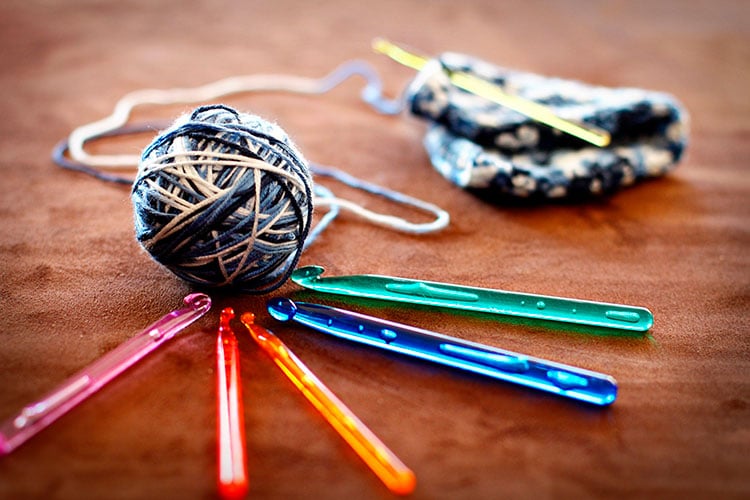 Crochet hooks are formed of several different materials. Wood, bamboo, aluminum, glass, and plastic, to name a few. Specialty hooks are made of mixed materials, clay and aluminum, or wood and metal. Specialty hooks tend to be much more expensive, and much, much harder to learn on, although if you enjoy crocheting, they are nice to add to your collection.
You will also notice that there are several numbers and letters on each hook. The hook size is based off the diameter of the hook, and they are measured in millimeters (mm). The letters and numbers on the hook are the American sizes, the millimeters are the European sizes. They are written with both notations because some of the patterns you may run across will have the European notation for the hook size, and you can easily locate the one you are to use. The higher the letter and number combo, the larger the size. Typically, crochet hooks smaller than 2mm, or a "D", are made of steel and are called "thread hooks". These are the hooks you would use with crochet thread to make doilies, lace, and other intricate projects.
As a beginner, I would definitely recommend starting with aluminum hooks. Hooks made from aluminum are easier to use than bamboo or wood, allowing the yarn to glide smoothly over the hook and not snag on it. Glass and plastic tend to be very slippery, and can be frustrating when you are attempting to learn to crochet.
As a beginner, looking into purchasing crochet hooks for the first time, you have two economical options. The first is to purchase a whole set of hooks, which makes each hook cheaper, but is more expensive initially. A set of hooks will typically include the hook sizes "D" through "K", and these are all common hooks that will be used by an avid crocheter in several projects. This is a good option for the person who knows they will enjoy the craft, and is willing to dedicate time to learning it. A set of crochet hooks will cost an average of $8.00.
If you aren't sure you will enjoy it, but are willing to try something new, I would recommend purchasing just one hook. The easiest size hook for a beginner to learn on is an H-8, 5 mm., because it's the hook that fits the most comfortably in your hand, and it's the hook that will work with the weight of yarn you will be wanting to learn on. An H-8 sized hook can be purchased for $2.50 at nearly any store.
Cost for a set of hooks: $8.00
Cost for an individual hook: $2.50
Yarn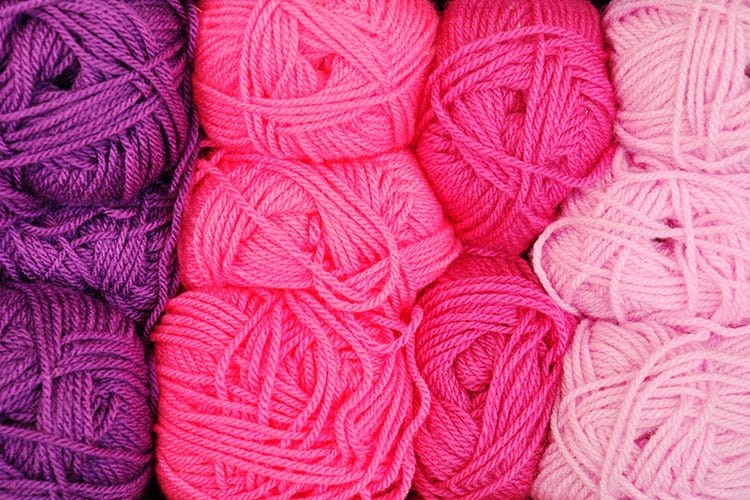 There are hundreds and hundreds of options when it comes to purchasing yarn when learning how to crochet. There are different materials, there are different brands, and there are different colors.
The yarn industry has gotten quite fancy when it comes to the materials they use for spinning up the yarn: bamboo, silk, Angora are luscious options that all offer a nice drape and flow, and are ideal for clothing. Any of these yarns, or any yarn that is blended with these materials, are exquisite to work with. They are smooth and slippery, and offer a multitude of options when it comes to patterns. Unfortunately, these yarns are also very expensive, with an average price being about $9.00 a skein. And they are difficult to care for, and when it comes to cleaning, most have to be hand washed.
Cotton yarn and wool yarn are two types that are, on average, $4.00 a skein, and they work up nicely and well. If you are looking to make wash cloths, cotton yarn is your best bet. Cotton is absorbent and soft, and comes in a myriad of colors. It is also good for clothing intended to be worn in the summer time, as it is cooler and a lighter weight than other yarns. When it's time to wash, just toss it in the washing machine with your towels and your good to go. Wool is a bit harder to care for, having to be hand washed, but extremely warm for colder climates. It wears well, and is ideal for slippers and gloves and warm, cozy scarves.
Then there is the basic acrylic yarn, that is multi-purpose, easily washed, and will last a lifetime. It is also the most frugal option of all the types of yarn, at $2.00 a skein. You have an amazing selection of colors to choose from, and it is versatile, as it can be used for almost any project. Afghans typically will call for this type of yarn.
Another thing to consider when purchasing yarn is the weight. The weight of the yarn is measured in numbers and in different terms. Basically, the weight of the yarn tells you which project that yarn is ideal for, and what size hook will work for that particular yarn. The weight of the yarn is included on most yarn labels. The weights range from #1 (super fine, suitable for lace), to #7 (jumbo, suitable for rugs and heavy blankets). When it comes to yarn for a beginning project, I would stick with a basic acrylic yarn, with a #3 or #4 weight. I would also recommend purchasing a lighter, solid color to start with, as it is easier to see what you are doing and each individual stitch than using a dark, variegated yarn.
Yarn — Cost: $2.00 – $12.00
Scissors, Stitch Markers, Yarn Needle, and a Measuring Tape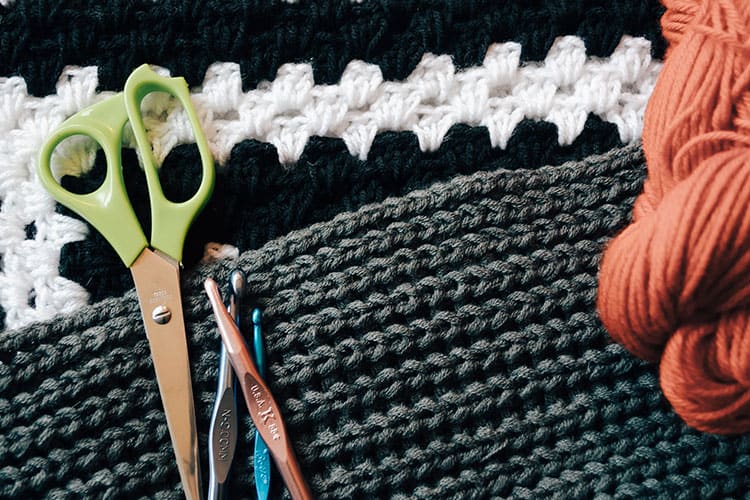 All the accessories you need to easily be able to work on a project with minimal frustration are listed here. While having a functional pair of scissors on hand are a must, stitch markers, yarn needles, and a measuring tape are all things that I count as "must haves", others count them as extras. Basically, they make learning to crochet a much easier and smoother process.
To start with, a good pair of scissors is a must! And by a good pair, I mean a sharp pair with pointed ends, not rounded ones. There's nothing worse than a pair of dull scissors that won't cut through the yarn without fraying the ends. I have found that the best pair of scissors to use in crocheting is a pair of small thread scissors, purchased in the fabric department of a craft store. A pair of thread scissors averages $7.00, and they will last forever, if you are careful to only use them on yarn. Paper will make them dull quickly, and then they are worthless.
Stitch markers are another important item to have on hand. These are handy for marking the beginning of rounds, the places where you need to increase, or decrease, or the beginning of a new section of a repeated stitch pattern. They are also handy for keeping track of different pattern counts. Stitch markers are usually plastic, and they usually snap closed, although some may slide around a stitch. There are several variations of them available, and I have seen some pretty jeweled ones, and some made with different metals. These are inexpensive, and are easily found in the yarn department of your favorite craft store, and it is definitely worth buying a couple of containers of them! They usually run around $2.00 for a pack of 25 markers.
A yarn needle, also called a darning needle, is the next commodity that I wouldn't be without. While it is technically possible to weave the tail of the yarn into your finished project with a crochet hook, you can hide the ends much better, in a much more unobtrusive way, by using a needle. They are made of plastic or steel, have a very blunt tip, are extraordinarily long, have a large diameter, and a large eye to thread the yarn through. These are just one of those things that are lost easily, so I would recommend purchasing more than one. This is another item that really doesn't cost much, and can be found at your local craft shop for less than $1.50 for a pack of five.
A measuring tape is the next item I wouldn't be without. A ruler will do in a pinch, but something longer than a foot will be difficult to measure. There are two different kinds of measuring tapes when it comes to crafting, and both are made of soft, flexible plastic, and are 60 inches long. One is on a plastic spool, that automatically ends itself up at the much of a button. These are fun to use and easy to transport, but I have found that the button to retract the tape measure tends to wear out after several uses. The second kind is a tape that is simply wound around itself. The price for a tape measure such as this is about $4.50
Cost for scissors: $7.00
Cost for smith markers: $2.00
Cost for yarn needle: $1.50
Cost for measuring tape: $4.50
Patterns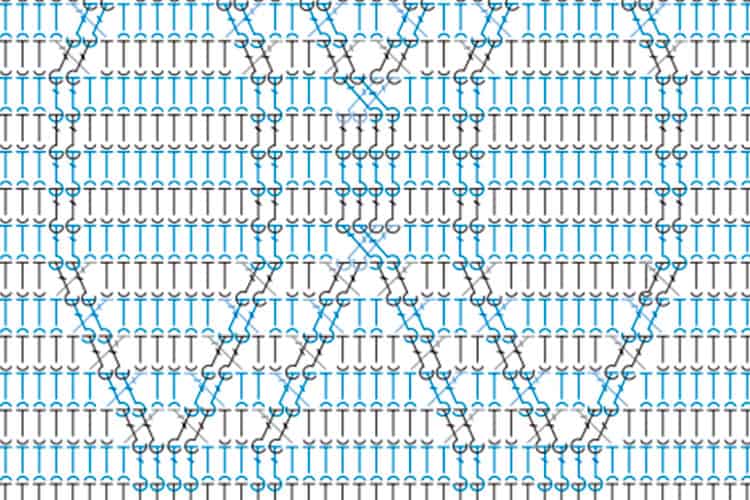 Patterns are the foundation of any crochet project, and a good pattern, paired with the right yarn and the right crochet hook will make a project perfect. The opposite is also true: a pattern that is confusing can end a project with very discouraging results.
Many patterns are marked by skill level, indicating whether they are suitable for a beginner, an intermediate crocheter, or a more experienced one. A quick search on the internet will unearth a plethora of free patterns that will delight a crochet lovers heart, and it is one resource that several crocheters regularly  use.
There are options to purchase and download patterns offline, and almost any store will have pattern books and magazines available with several different patterns to choose from. I personally prefer the option of using the internet for pattern searches because it allows me to browse a huge selection of patterns for a specific item I am wanting to create. When you are using a book, you have a limited number of choices. But when using the internet, you can search the whole web to find exactly what you are looking for.
If a pattern doesn't work for you, or is too complicated, or is just not written clear and concisely, you can easily search for another pattern that will work. Another plus of using the internet is not having to keep up with and store paper and books, which can take up a lot of room. You can save the pattern on your cellphone, tablet, or iPad, and easily keep up with it.
There are several internet sites that are dedicated to publishing free, quality patterns. Ravelry is one such place, where many of the patterns are free, or available for a small sum. YouTube is a valuable resource when it comes t learning how to crochet, as you can watch someone as they walk you through all the steps you need to start learning.
Patterns — Cost: $0.00 – $10.00+
You have now had a crash course in all the materials you will need to successfully begin to crochet, and you have a detailed list of all the costs. There are so many options available today for those looking to learn a new skill, and there are several choices that are cost effective for those wondering if crocheting is the right skill for them to learn. The average cost of starting to crochet is minimal at most. For less than $30 you can have all the materials available to learn.
Total cost of learning to crochet: $27.50
Related Questions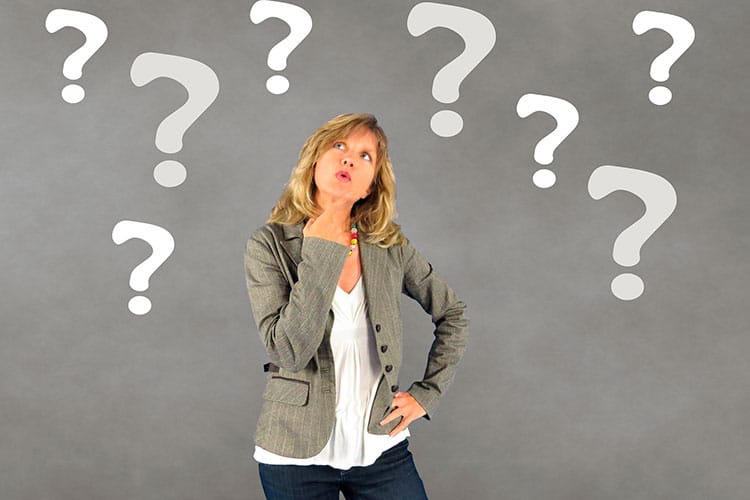 What is the best way to store crochet hooks? One of the best ways to store crochet hooks and keep them somewhat organized is to keep them in a pencil box that students would use in a school setting.
What is the difference between crocheting and knitting? When crocheting, you are using one single hook, and the stitches resemble small knots. In knitting, you use two, bluntly pointed needles to form loops of yarn that are interwoven with each other.
Is knitting or crocheting faster? Many people find that crocheting is faster, but it uses more yarn. Knitting is a bit slower, but uses less yarn. Mistakes are more easily corrected when crocheting than when knitting.
What does the "gauge" mean in a pattern? The gauge of a pattern measure the number of stitches and rows per inch. Making sure your work meets the specified gauge of the pattern you are using will ensure that the project you are working on will have the same finished dimensions as the pattern.